How to use a UV adhesion promoter for bonding
English
Optimization of adhesive performance
Use on many materials
Better quality control thanks to the UV indicator
Fast drying time: more productivity
What is a UV adhesion promoter ?
Like a conventional adhesion primer (or promoter), a UV primer is a coating that improves the performance of an adhesive tape or glue on a surface, especially during difficult assembly (low surface energy substrates). It is applied prior to the application of your adhesive solution.
UV primers have a fluorescent indicator that make them visible under ultraviolet light. This allows you to easily check that the primer has been properly applied with a UV lamp. This improves quality control in the industry.
How to apply a UV adhesion primer ?
First of all, your surface must be cleaned, degreased and dry with apppropriate cleaners and degreasers for industry.
Next steps :
1. Shake the bottle of primer.
2. Apply the primer to the surface: apply the minimum amount that will cover the entire surface.
3. Check the distribution of the product with a UV lamp, using UV protection goggles and other protective accessories if necessary.
4. Wait for the UV primer to evaporate completely (30 to 90 seconds depending on the ambient temperature)
5. Optional : If two applications are required for an even distribution (e.g. porous surfaces), wait for the first coat to dry before applying the next one.
6. Apply your industrial adhesive tape or glue to complete your assembly.
When is a UV primer useful ?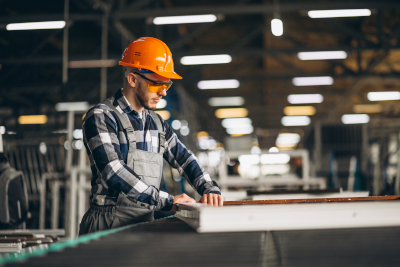 A UV adhesion primer is generally designed to be used on a wide range of surfaces. For this reason, it is less colored, or even completely transparent, than most conventional primers that are colored, but often intended for a more limited number of applications.
Its integrated UV indicator allows for effective control of the primer's application. This improves productivity and quality control :
For companies that outsource primer application
For in-house production departments
When checking primed surfaces several days or weeks after application
You can use a UV primer to strengthen your bond on polypropylene, ABS, PET/PBT and many low-adhesion substrates.
Always read the data sheet of the UV primer you are using to check exactly what materials it is compatible with.
Equipment required
Lint-free cloth, brush, applicator pad, pressure gun, roller or other applicator tool
UV flashlight
Gloves, UV goggles and possibly a respirator
Other protective accessories for prolonged exposure to UV radiation
Safety and precautions for use
The use of the UV lamp does not participate in the polymerization of the primer. The purpose of this action is only to check the application of the product.
The UV primer can be removed with acetone (do a test to make sure it will not damage the surface).
Use the UV primer away from flames and heat sources.
Avoid contact with eyes, skin and respiratory tract.
Wear protective gloves.
UV exposure :
For a UV product emitting 10mW/cm², the legal limit of daily exposure is 2 minutes for the eyes and 12 minutes for the skin.
Beyond that time, you should use UV protection adapted to your exposure to ultraviolet rays : glasses, mask, gloves, suit...
Some references of UV primers
Optimized quality control with UV tracer
Fast drying time for more productivity
More respectful of the environment and health