Accroche
Clear delineation
Removable without residue
Paint masking, shot-blasting, sand-blasting
Adhesive tapes play an important role in many masking or paint protection applications, especially in surface treatment applications in the industrial environment.
Several main categories of adhesive tape application can be distinguished in masking operations :
paint masking
masking for the treatment of mechanical surfaces (shot-blasting, sand-blasting)
masking for the treatment of chemical surfaces (electrolyte bath, electroplating).
Surface treatments are practiced in many industries : aeronautics, the railway industry, the automotive industry, the petrochemical industry…. 
Paint protection with shot-blasting and sand-blasting
Sandblasting and shot blasting consist in removing material from an object in order to change the material's surface by projecting abrasive particles at high pressure (grit, sand, corundum…). Some parts don't need to be subjected to this treatment and can be protected (for example a thread on a mechanical part) by means of adhesive tape resistant to abrasion which can be removed without leaving any marks. The adhesive tape range for masking and shot blasting is broad in order to meet two main parameters : type of abrasive and pressure. It is mainly cloth tapes and PVC tapes that can meet these two applications.
A list of the main materials used for mechanical treatments follows :
Rectangular steel shot
Corundum
Steel balls
Glass beads
Plastic pellets
Ceramic beads
For each of these applications, suitable masking products exist. To choose the best product, you should know the maximum pressure (4 to 8 bars), the type of the projected material and the projection time on the protected area.
Protection for electroplating
The principle of electroplating is to do surface treatment with a deposit of material through electrolysis. In order to mask for an electrolyte bath, a conductive adhesive tape that is resistant to chemical attack is needed. The most suitable products to meet these constraints are aluminium tapes, lead tapes and vinyl adhesive tapes.
Here is a list of the main existing treatments : 
Silvering / gilding
Cadmium
Galvanization
Copper plating and brass plating
Tinning
Plating
Chrome plating
Hard chrome plating
Anodising
Liquid paint masking
Masking for liquid paint is the most common and most used masking, particularly in painting applications in the building industry and for road markings. Mainly single sided paper adhesives and single sided PVC adhesives are used for these applications. We can separate the liquid paint into 2 categories :
Solvent based paint
Water based paint
For these two categories, the corresponding adhesive products will differ according to the temperature resistance and conformability.
Powder coating masking
Epoxy or polyester powder coating is a widely used industrial process to spray electrostatically charged paint in powder form, and to put it in the oven to complete the process.  To mask a section of the painted part, it is mainly single sided polyester adhesive tape that is used. Its polyester backing allows high temperature resistance, its silicone adhesive allows for removal without leaving any adhesive residue, and its thinness prevents the creation of deposits.
High temperature masking
Used in many industrial applications such as soldering composites, aeronautical insulation panels, masking connectors…. The various materials can withstand extreme heat and high temperatures : Polyimide - Kapton, Teflon - PTFE, polyester, glass cloth.... Most of these materials are covered with silicone or rubber thermosetting adhesive that provides good temperature resistance.
Among these treatments, here are the main ones :
Protection before wave welding
Metal spraying
Chemical processing (Aluminium, Titanium, Alloys)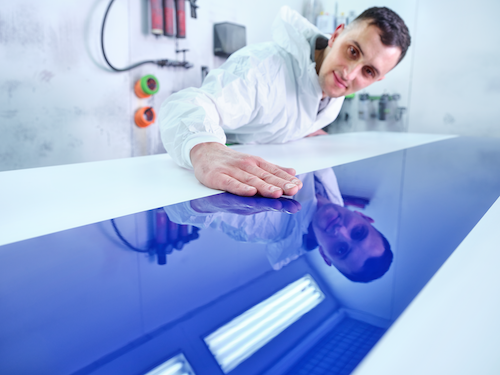 Silicone-based adhesive tapes are traditionally used in extreme production environments. However, there is a risk of silicone migration to the substrate, which can threaten product quality and safety.
Eliminate these residue risks with our silicone-free masking tapes:
Maintain high performance in harsh conditions
Withstand extreme pressure and temperatures up to 180 °C
Heavy-duty tapes, offering maximum reliability
Reduce costs by eliminating time-consuming residue cleanup
Silicone-free masking tapes are the ideal solution for:
Applications where a 100% silicone-free environment is required
Applications with zero tolerated adhesive residue
High temperature applications such as masking before bonding (masking areas before painting that then undergo a bonding or gluing process)
Composite manufacturing and metal sandwich construction
Summary of benefits of silicone-free masking tapes:
Easy, controlled, finger-friendly unwind, making it convenient to use
Tear resistant with a strong PET/non-woven backing
High performance adhesive capable of withstanding high pressures and temperatures up to 180 °C
Excellent adhesion to rough surfaces
Little ghosting/discoloration on clear coatings
Superior paint edges in two-color applications
Residue-free removal
Contact us for more information or a quote!
Customers who viewed this item also viewed